What to See and Do in Dubai with Kids .  Dubai for Kids is an excellent place for your children!  The list below shows cool places in Dubai that your kids will enjoy!!
Children's City is located at the Dubai Creek Park at Bur Dubai. It consists of over 80,000 square feet of educational area with attractions for kids, ages from 2 to 15 years old. It blends activities on nature, space, science, culture and the human body and kids will love the flight simulator and the other interactive exhibits.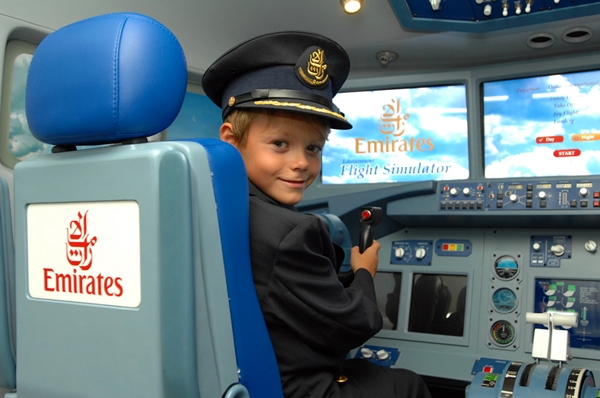 Flight Simulator, Children's City, Dubai
Ski Dubai at Mall of the Emirates
The Mall of Emirates is like most any you'll find at home, with food courts, major department stores and shops of all sorts. An especially unique feature however, is the indoor ski slope where for a reasonable fee you can so skiing and snowboarding, or just throw snowballs. You can even sign your child up for ski or snowboard lessons! Do book in advance for lessons, to be assured of a spot.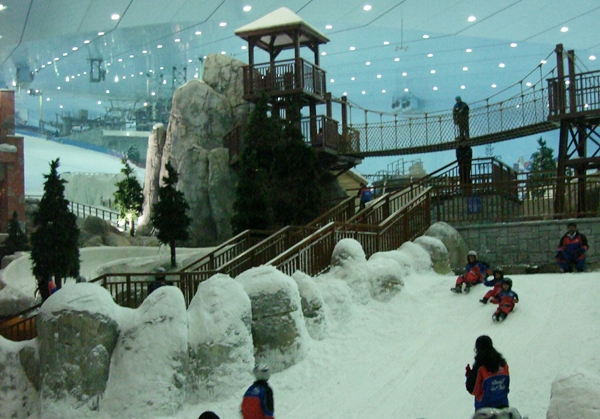 Ski Dubai, Mall of the Emirates
Wild Wadi is a large water park located at the Jumeirah Beach Hotel and features a variety of water slides, rides and surfing opportunities. Take your own swim suit as well, it's fun for the entire family!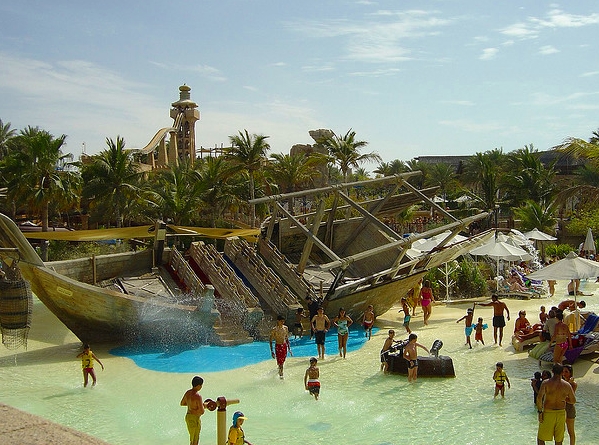 Wild Wadi Water Park, Dubai
If Wild Wadi wasn't enough to sate your kids' love of water, another theme park to take the kids is Wonderland, which can be found at the Al Gharhoud on Bur Dubai. This is a combination of an amusement park (Wonderland) with water slides and rides of all kinds (Splashland). It also has fast food restaurants where you can try many varieties of foods.
Wild Wadi Water Park, Dubai
Dune Bashing
This is more of a local term for just going out on the dunes and having a great time. Many arrange for a "desert safari" that includes a guided ride over the dunes in an SUV. Also available is sand boarding on sand, 4×4 driving and quad bikes. Most tours include sand boarding and a visit to a camel farm. Tour operators include Sun City Dubai Tours and Desert Safari Dubai.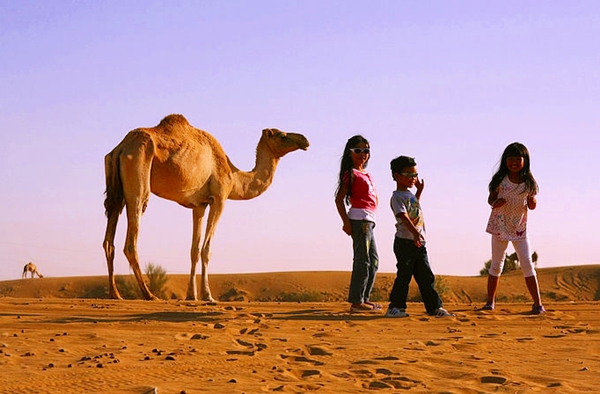 Kids with camel, Dubai
Hot Air Balloon Ride
Be sure to try out the balloon rides so you can see Dubai from hundreds of feet in the air. Dubai has some of the most unique architecture in the world with the Palm Islands communities built on reclaimed earth from other excavations. There are several places that offer this thrilling trip. Check out some of the providers at Amigos Balloons, Dream Days and Viator Tours. They can provide you with guidelines and requirements.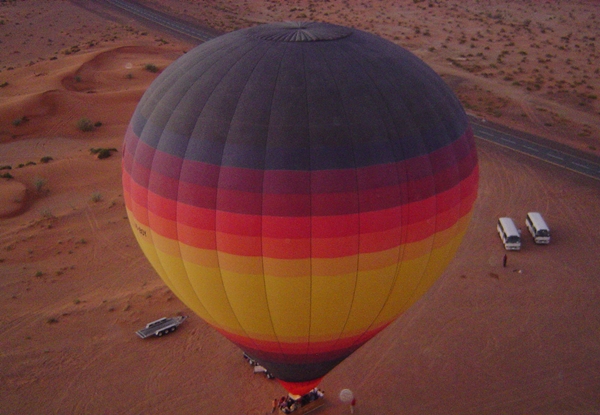 Kids with camel, Dubai
Beaches
Naturally, beaches come to mind as one of the top attractions. Even if your kid doesn't want to swim, he'll probably have fun burying himself (or a sibling or you!) in the sand, or building a sand castle.
Al Mamzar Beach
The sea here is crystal clear, and there are fish close to shore and it is great for snorkeling. There are five beaches in the park, but beach Four has changing/toilet facilities and volley ball nets. The sea here is sheltered, and fairly safe from currents.
Jumeirah Beach
Jumeirah Beach is very well known and has a very long length of beach with many hotels and private clubs along with public access areas.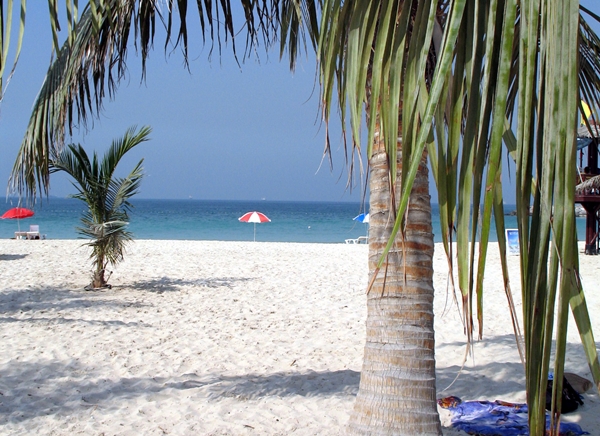 Al Mamzar Beach, Dubai
Where to Stay
The 5-Star Jumeirah Beach Hotel is a top-of-the-line luxury hotel and is one of the architectural marvels that Dubai can brag about. It has 618 rooms and rates start at a more reasonable $550 a night. The hotel rooms offer you Gulf ocean views. Additionally, the hotel package includes an unlimited access to Wild Wadi water park  and Sinbad's Kids Club for kids below the age of 12 years.
Al Mamzar Beach, Dubai
Le Royal Meridien Beach Resort & Spa
Le Royal Meridien Beach Resort & Spa is likewise a top-rated 5-star hotel set right near a beautiful stretch of beach. There's plenty of pampering for parents in the luxurious Club Rooms and at the spa, which features five Hammam pools, saunas, Jacuzzis, and gym. For kids age 4-12, there's a complimentary Penguin Club from 9am-1pm and from 2-6pm. Kids will have fun shell painting, riding in banana boats, playing badminton and building sand castles at the beach.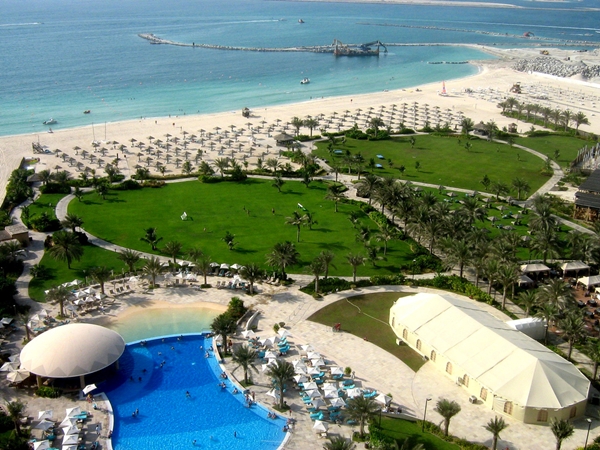 Le Royal Meridien Beach Resort, Dubai
The Grand Hyatt Dubai
The Grand Hyatt Dubai is another good choice, whether visiting Dubai as a couple or with kids. It's about 10 minutes from the airport, near the Dubai Museum, the old Bastakiya district, a huge cineplex and several malls, and set on 37 acres of beautiful lush gardens. Parents and kids alike will enjoy the indoor and outdoor pools (including a kids pool), huge variety of dining options from local favorites to Italian, Indian, sushi and more and excellent service. For an additional splurge, stay on the Club level, which comes with complimentary airport transfers and access to the private Club lounge with complimentary Continental breakfast and evening cocktails and hors d'oeuvres. There's also a dedicated Kids Club for kids 1-12 from 9am to 10pm with supervised indoor and outdoor activities.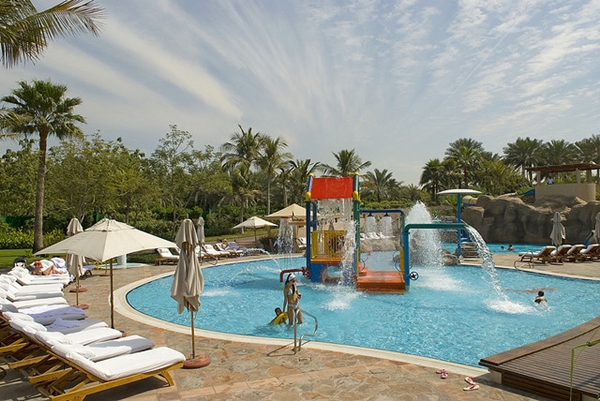 Kids' Pool at Grand Hyatt Dubai
http://travelsort.com/blog/dubai-with-kids-where-to-stay-and-the-top-things-to-do