DUBAI CURRENCY / DUBAI MONEY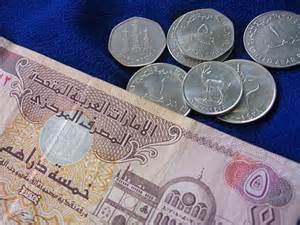 The currency is the UAE dirham (dh); $1 equals about 3.50 dh, but this fluctuates so BE SURE TO CHECK BEFORE YOU DOCK AT DUBAI.  US Dollars are generally not accepted, so have UAE currency ready or exchange your US dollars at the cruise terminal or use the ATM at the terminal before you leave to make things easier.  Taxis take currency only (no credit cards).  Note: While ATMs offered the usual markings (Cirrus, Visa, Mastercard), they tended to accept only a four-digit pin code. And here's a hint: Check with your bank before you leave about whether your credit or debit card will work. 
To find out how many dollars equals AED money, use http://www.xe.com/currencyconverter/# .
Dubai does not charge tax, so keep this in mind.
For example: 200 US dollars equals about 734 Dubai dollars.  However, keep in mind that this does not mean that you will be spending less because of the money exchange.  Some things can be expensive in Dubai, such as groceries, alcohol, and rent.  However, transportation, hotels, eating out, or eating at restaurants can be a good value.    The list below will give you a better idea of how much food, transportation, and restaurants cost in Dubai.
Restaurants in Dubai
 Avg.

Range

Meal, Inexpensive Restaurant
25.00 AED

20.00

36.73

Meal for 2, Mid-range Restaurant, Three-course
150.00 AED

110.00

230.00

Combo Meal at McDonalds or Similar
21.00 AED

20.00

25.00

Domestic Beer (0.5 liter draught)
35.00 AED

30.00

40.00

Imported Beer (0.33 liter bottle)
35.00 AED

25.00

40.00

Cappuccino (regular)
15.23 AED

12.00

18.00

Coke/Pepsi (0.33 liter bottle)
1.60 AED

1.50

2.00

Water (0.33 liter bottle)
1.12 AED

1.00

1.71

Food in Dubai
 Avg.
Milk (regular), (1 liter)
5.48 AED

5.00

7.00

Loaf of Fresh White Bread (500g)
4.34 AED

3.00

5.00

Rice (white), (1kg)
6.61 AED

5.00

10.00

Eggs (12)
9.77 AED

7.00

12.00

Local Cheese (1kg)
32.04 AED

23.90

50.00

Chicken Breasts (Boneless, Skinless), (1kg)
25.14 AED

20.00

30.00

Apples (1kg)
9.20 AED

7.35

15.00

Oranges (1kg)
7.79 AED

5.00

12.00

Tomato (1kg)
6.12 AED

4.00

12.00

Potato (1kg)
4.24 AED

3.00

6.00

Lettuce (1 head)
5.21 AED

4.00

7.50

Water (1.5 liter bottle)
1.90 AED

1.50

3.00

Bottle of Wine (Mid-Range)
70.00 AED

50.00

100.00

Domestic Beer (0.5 liter bottle)
24.62 AED

20.00

30.00

Imported Beer (0.33 liter bottle)
25.08 AED

20.00

32.00

Pack of Cigarettes (Marlboro)
9.00 AED

8.00

10.00

Transportation in Dubai
Avg.
One-way Ticket (Local Transport)
4.80 AED

4.00

5.80

Monthly Pass (Regular Price)
200.00 AED

150.00

275.00

Taxi Start (Normal Tariff)
3.50 AED

3.00

10.00

Taxi 1km (Normal Tariff)
1.71 AED

1.50

2.00

Taxi 1hour Waiting (Normal Tariff)
30.00 AED

25.00

50.00

Gasoline (1 liter)
1.73 AED

1.72

1.80

Volkswagen Golf 1.4 90 KW Trendline (Or Equivalent New Car)
70,000.00 AED

60,000.00

80,000.00

Utilities (Monthly)
Avg.
Basic (Electricity, Heating, Water, Garbage) for 85m2 Apartment
539.28 AED

400.00

700.00

1 min. of Prepaid Mobile Tariff Local (No Discounts or Plans)
0.57 AED

0.30

1.00

Internet (6 Mbps, Unlimited Data, Cable/ADSL)
271.28 AED

200.00

300.00

Sports And Leisure
 Avg.
Fitness Club, Monthly Fee for 1 Adult
360.12 AED

300.00

400.00

Tennis Court Rent (1 Hour on Weekend)
81.00 AED

50.00

100.00

Cinema, International Release, 1 Seat
35.00 AED

35.00

40.00

Clothes And Shoes
 Avg.
1 Pair of Jeans (Levis 501 Or Similar)
296.03 AED

170.00

450.00

1 Summer Dress in a Chain Store (Zara, H&M, …)
202.04 AED

150.00

253.08

1 Pair of Nike Shoes
319.44 AED

250.00

400.00

1 Pair of Men Leather Shoes
385.33 AED

300.00

450.00

Rent Per Month to live in Dubai
[Edit] Avg.
Apartment (1 bedroom) in City Centre
6,471.28 AED

5,000.00

8,000.00

Apartment (1 bedroom) Outside of Centre
3,984.53 AED

3,000.00

5,000.00

Apartment (3 bedrooms) in City Centre
12,608.22 AED

10,000.00

15,503.97

Apartment (3 bedrooms) Outside of Centre
9,056.21 AED

7,000.00

11,000.00